Stopping the climate catastrophe sustainably and profitably
Building a carbon-neutral
future sustainably and profitably
Our mission is to put a stop to the climate catastrophe.We fight for the environment by helping businesses, municipalities and landowners take advantage of opportunities in renewable energy.
A finance and sales company, Forus develops services designed to stop climate change in a sustainable and profitable way. In the last 7 years, we have been involved in building or developing over 80 solar power stations in Finland.
We are also specialized in property consulting for property owners.
Contact us and order an energy survey here!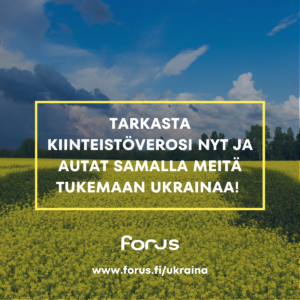 We want to support the Ukrainian infrastructure, which has suffered significantly due to Russia's attacks. In order to do that, we are implementing a campaign: based on the real estate tax decisions we receive during the campaign period, we will purchase and deliver electric cable to Ukraine.
The most sustainable solar power in Finland
Real estate tax surveys with experience
With our unique service models, transition to renewable energy is effortless for our clients. They benefit from new cash-flow neutral renewable energy solutions. We provide profits where no costs exist while reducing the environmental burden – a win for our clients, for us, and for the environment!
Our growing clientele includes a range of Finland's largest land and property owners.
We also provide Real estate tax consulting over 2000 buildings and optimized energy renovations for property owners.
Forus and Better Energy aim for 1000 MW of solar energy in Finland




A large solar power park could start up in Lappeenranta in 2026 – the electricity it produces would be enough for 150,000 apartment blocks
A solar power plant is being planned for Miehikkälä - municipal manager: "It will have a significant image benefit"



Sähkökriisin syyt ja seuraukset